The "Big Ears" public engagement training event at the Sonic Arts Research Centre, Queen's University Belfast, took place this year on the 8th of March 2012.
For a second year the Sonic Arts Research Centre (SARC), of Queen's University Belfast (QUB), held 'Big Ears: Sonic Art for Public Ears' – a training course for PhD students in public engagement. The event was funded by the Arts and Humanities Research Council (AHRC) and run in collaboration with Young at Art, Northern Ireland's leading children's arts charity.
The event coincided with the 2012 Belfast Children's Festival. It was designed for doctoral students conducting research in the fields of
music, sonic arts and/or performance as well as with a particular interest in music technologies. A rigorous selection process was employed to ensure that the limited places available were designated
to the most appropriate candidates. In total fourteen doctoral students from universities across the UK took part.
The course was held 8 to 11 March 2012 and delivered in two stages. The first stage (8/9 March) consisted of communication and public engagement skills workshops. Each workshop was designed to develop participants' knowledge of how they, as researchers, can engage with communities and organisations outside of academic settings for mutual benefit. Workshops were both theoretical and practical in orientation. The aim was to provide doctoral students with a theoretical foundation from which they could begin to think creatively of how best to use available resources to develop innovative, collaborative sonic art projects in their future careers.
The second stage of the course (10/11 March) saw the doctoral students work in teams and engage with local children to create novel sonic art events. The goal was for doctoral students to gain valuable practical experience and introduce local children to a creative academic environment. Each team worked to produced innovative multi-modal performances that combined the technical skills
of the students with the imagination of the children. After two days of intense collaboration, Big Ears culminated in a public showcase that was staged in SARC's cutting-edge concert venue, the Sonic
Laboratory. In total, 22 children aged between 8 and 13 took part.
Project Experience
Although I have 7 years working experience with children, this event allowed me for the first time to collaborate musically with them.
Our research group was given 7 children to work with. Our main focus with the children was on sounds that represented happiness for them. In order for us to work with those sounds of happiness, we divided the children into 3 small groups each of which focused on a different form of creating/producing sound. The first group was told to tell a happy memory that was recorded into a zoom microphone. The second group was creating happy sounds by searching the venue for different objects that created those sounds. Those sounds included toilet flushing, screaming into a pipe, walking on leafs etc. all of which were also recorded and manipulated into samples to be used later in the project. The third group of children worked with one of the technician to search the web and find sounds that resembled happiness for them (Mario music theme, disco beats etc.). When this process was finished we (the researchers) gathered the sounds together and gave the samples for the children to listen and to create a happy story.
The collection of happy sounds was integrated into a collage of what the children referred as happy sounds. They also draw a few of the sounds representations: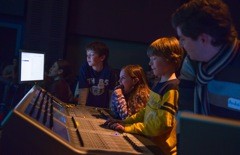 To let the children engage even more with the collage, we encouraged them to take control over the mixer in the show case of their piece.
This collaboration taught me of the precious creative abilities that children have. I am inspired and overwhelmed when thinking about this experience.
Thanks to Tom Croll-Knight, Luca Holland, Andrés Cabrera, Natalia Eernstman and all the amazing children that worked with us.